Phalen Leadership Academies
Your Partner in Creating Great Schools
Return to Headlines
A Huge Thank You to People Helping People for an Amazing Donation!
Indianapolis – As Phalen Leadership Academies (PLA) focuses on creating long-term positive change in their schools and communities, an Indianapolis nonprofit is working to provide new musical instruments for students. The People Helping People Network (PHP) contributed $5,000 to purchase violins, violas, cellos and double basses for PLA's four Indianapolis schools. The organization plans to help raise another $20,000 to purchase more instruments to fully fund PLA's Music for Success program.
PLA is in the process of developing a partnership with the Metropolitan Youth Orchestra to provide free music educations to all of its kindergarten through eighth grade scholars. The program is designed to incorporate the life skills learned through music instruction to engage youth in activities that discourage at-risk behaviors and keep them committed to staying in school.
Research has found that learning music can fundamentally alter the nervous system to create better learners. Ongoing studies suggest school and community-based music instruction can make a significant difference in the academic trajectory of lower-income kids in particular. More than 74% of PLA students qualify for free or reduced lunch.
"It's been an especially hard few months with COVID-19, but I'm so proud of how our scholars, families and team have risen to the occasion," said Earl Martin Phalen, PLA founder and CEO. "We've addressed nutritional needs by providing weekly meals for our scholars and their families, and we secured resources to provide one-to-one devices and hotspots so our teachers could instruct virtually as needed. We are very grateful for the People Helping People Network's support in providing musical instruments for this important program."
"We know music is a vital piece of education, and it is something that unites all of us," said Sara Marshall, People Helping People Network board member. "Music for Success is one more way PLA is working to improve the lives of children."
The People Helping People Network is accepting monetary donations and gently used stringed instruments of any size. Click here to donate.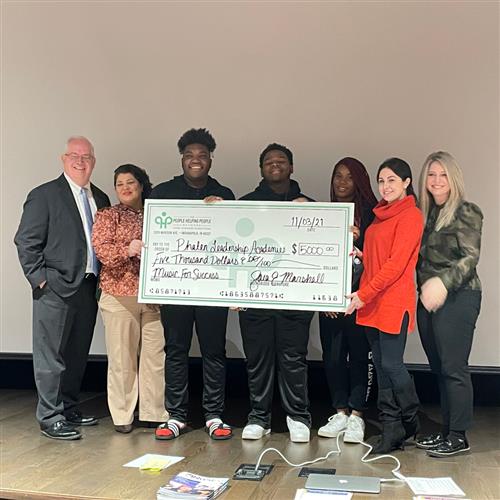 You're online. We're online. Let's connect.