Phalen Leadership Academies
Your Partner in Creating Great Schools
Return to Headlines
PLA University Welcomes Dress For Success as New Program Partner: Will Outfit Graduates For Job Interviewing. -Información en español-
PLA University Welcomes Dress For Success as New Program Partner: Will Outfit Graduates For Job Interviewing
PLA University is proud to announce a new partnership with Dress for Success, Indianapolis.
The Indianapolis organization, Dress for Success, was founded in 1999 and has served over 18,000 women in Indy helping them dress for their aspirations or careers. Now they will partner with Phalen's free job training program for adult PLA family members, PLA University.
Once a PLA University student completes job training, they will be referred to Dress for Success for a wide range of services including interview clothing, interview tips, and work wear clothing. PLA University students will receive clothing and all the accessories for their interview as well as outfits for their first week on the job.
We are excited to be partnering with an amazing organization that will help give our students the confidence they need to land that job! We are currently researching some local organizations that will provide our male students with the same services.
PLA University is free to any adult family member of a PLA scholar. The next PLA University cohort begins October 29th. Programs include: CNA, Clinical Medical Assistant, Clinical Lab Assistant, Phlebotomy, EKG Technician, HVAC, Welding, Warehouse Supervisor, Forklift Operator, and Paraprofessional.
Visit PLAUniversity.org to apply.
ESPAÑOL
PLA University da la bienvenida a "Dress For Success" como nuevo socio del programa: equipará a los graduados para entrevistas de trabajo
PLA University se enorgullece de anunciar una nueva asociación con "Dress for Success", Indianapolis.
La organización de Indianápolis, "Dress for Success", fue fundada en 1999 y ha servido a más de 18,000 mujeres en Indy ayudándolas a vestirse para sus aspiraciones o carreras. Ahora se asociarán con el programa gratuito de capacitación laboral de Phalen para miembros adultos de la familia PLA, PLA University.
Una vez que un estudiante de PLA University complete la capacitación laboral, será referido a "Dress for Success" para una amplia gama de servicios que incluyen ropa para entrevistas, consejos para entrevistas y ropa de trabajo. Los estudiantes de PLA University recibirán ropa y todos los accesorios para su entrevista, así como atuendos para su primera semana en el trabajo.
¡Estamos emocionados de asociarnos con una organización increíble que ayudará a darles a nuestros estudiantes la confianza que necesitan para conseguir ese trabajo! Actualmente estamos investigando algunas organizaciones locales que brindarán los mismos servicios a nuestros estudiantes varones.
PLA University es gratuita para cualquier miembro adulto de la familia de un alumno PLA. La próxima cohorte de PLA University comienza el 29 de octubre. Los programas incluyen: CNA, Asistente médico clínico, Asistente de laboratorio clínico, Flebotomía, Técnico de electrocardiograma, HVAC, Soldadura, Supervisor de almacén, Operador de montacargas y Paraprofesional.
Visite PLAUniversity.org para postularse.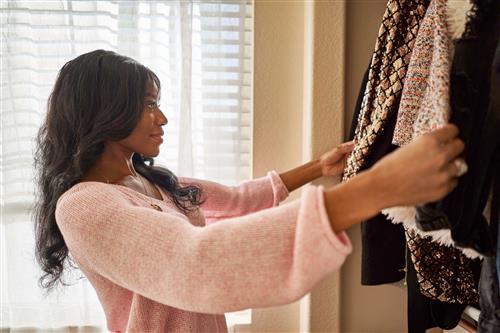 You're online. We're online. Let's connect.