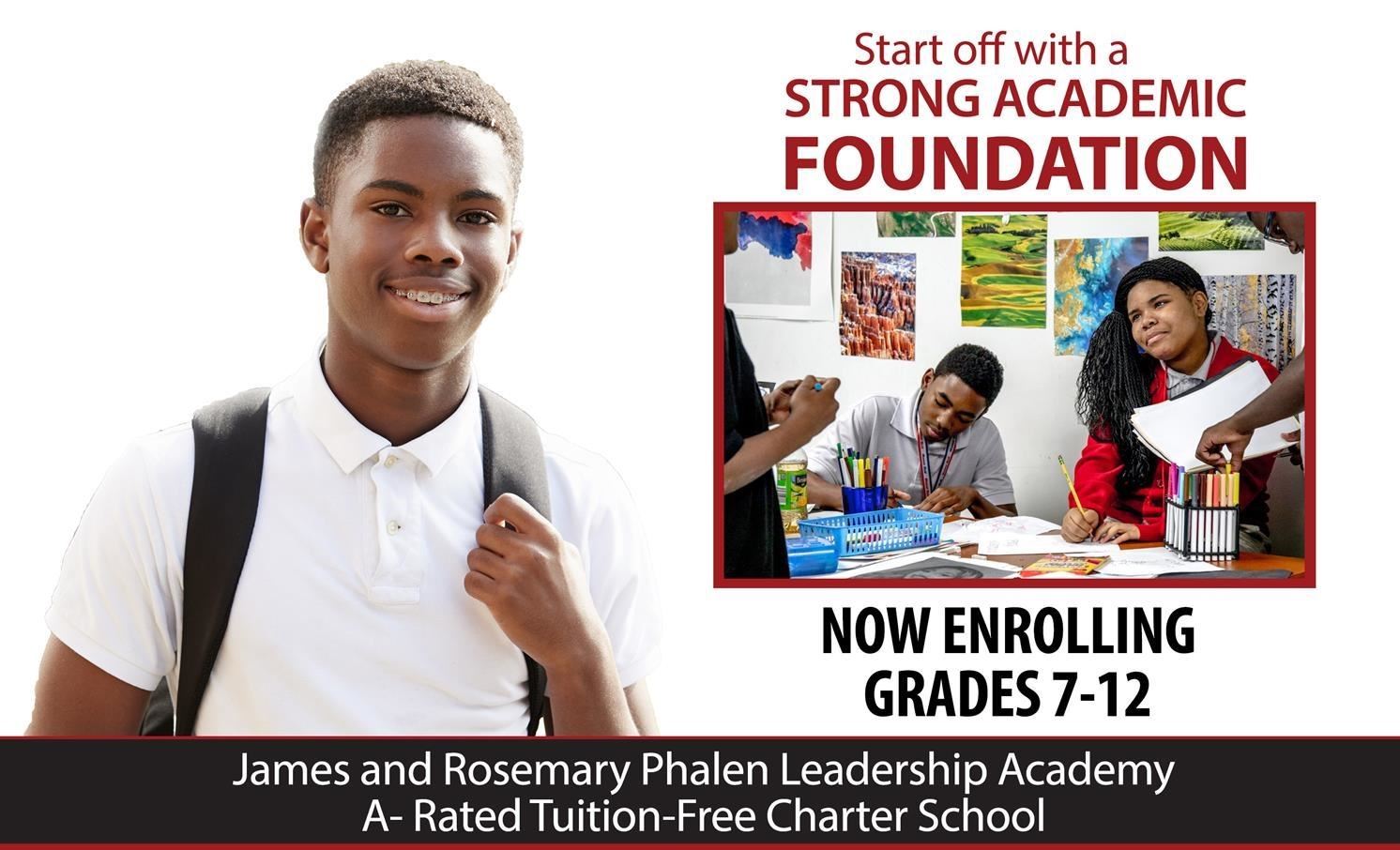 Dear Parents,
Welcome to the A-rated James and Rosemary Phalen Leadership Academy where the Falcons soar! At JRP, our scholars utilize hands-on learning with dedicated teachers in small class sizes. We offer sports and competitive athletics, career training, credit recovery; and we provide a well-rounded learning experience for each of our scholars. We aim to create a welcoming environment for our scholars, parents, and families.

At JRP, we believe our parents are our most important partners in achieving scholar growth and success. We actively work to partner with you to ensure your scholar receives an exceptional education. Together, we can help our scholars learn, grow, thrive, and fulfill their tremendous innate potential!

Here are a few more ways we work to partner with our families:

Getting your scholar to and through college with college and career readiness and scholarship support.
Integrating technology into our daily curriculum and providing iPads/ Chromebooks to every scholar.
High-quality athletics programming and extracurricular activities.
PLA University:

Choose your path! Any PLA family member qualifies for free job training and placement at PLA University. Start a new career in Health & Life Sciences, Information Technology, Advance Manufacturing, Entrepreneurship, or Supply Chain & Logistics. Apply today at

PLAUniversity.org.
Sean Cowdrey Health and Wellness Complex:

Get access to quality childcare, health and wellness, youth sports, STEAM programming, and more.

PLA Arts and Cultural Center:

Our campus is home to the only arts & cultural center on Indy's Far Eastside. At the center, our scholars and community members can experience a true art infusion as producers, editors, and owners of their own artistic works.

Summer Advantage:

A nationally recognized summer learning program that is offered to our 6th, 7th and 8th grade scholars at no cost. Summer Advantage, not to be confused with summer school, offers rigorous, research-based academic instruction and a wide variety of hands-on enrichment classes to improve student achievement and continue to transform learning throughout the summer. Participants receive two healthy meals a day, daily recreation, and an exciting environment where they can flourish academically and build confidence as leaders.

In addition, scholars participate in field trips, college campus visits, college prep, and scholar-led community service projects. Through innovative learning experiences, scholars gain confidence that supports their success when they return to school in the fall. This program is free for PLA schools and scholars across the country. Learn more at

SummerAdvantage.org.
Enrollment Checklist
Before beginning your online enrollment application, please make sure you have all required enrollment documents. This ensures our enrollment team has everything they need to get you and your scholar started on the path to success at James & Rosemary Phalen Leadership Academy! We look forward to partnering with you.

Ready to enroll? Click here to get started.
Birth Certificate

Parent Driver's License/ID

Immunization Records
Immunization Records

Records Request
What PLA Looks Like: PLA TV
See Our School and Scholars in Action

.